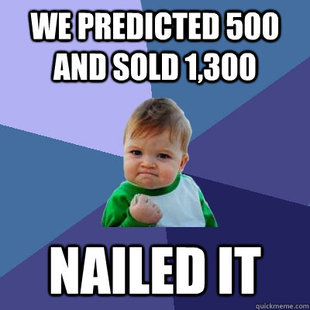 Well, that was awesome. Honestly awesome.
Hello from the Director of Døøm. On April 1, we sold 1,301 books — in 24 hours. That's 797 copies of THE ROOKIE and 504 copies of THE STARTER in paperback. That's a lot of books, in case you were wondering.
We're very happy that so many peeps stocked up on copies of these books for their local libraries, their kids' schools, and for their not-yet-Junkie friends and family members. It's wonderful to know that folks enjoy the Galactic Football League series so much that they jumped at the chance to share it. It's humbling and inspiring and cool as all get-out.
WARNING: IT WILL TAKE US A BIT TO SHIP THESE OUT!
I'll be honest, it was also a bit of a surprise; we estimated we'd sell about 400-500 books. Selling more than twice that many changes the game in the best way, but still changes the game. We had to order the additional forty cases of books from our distributor. I placed an order for additional mailers today. It's the best kind of surprise for a company that works everyday to delight our customers.
Due to the huge success of the Ascension Day sale, the timeline for shipping out all orders will probably stretch through April. We've got lots of help at Dark Øverlord South for when all the supplies finally arrive, and we'll move 'em out as fast as we can.
If you ordered, I appreciate your patience while we process these orders and get them sent.
As always, Scott and I thank you for your support. We couldn't do it without you, and wouldn't want it any other way.