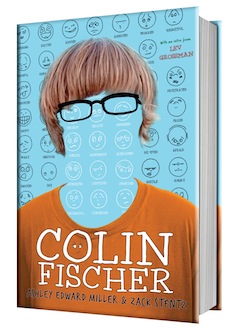 Ashley Miller and Zack Stentz are hot stuff in the world of genre movies. The pair wrote the screenplays for THOR and X-MEN: FIRST CLASS, as well as having written for the shows FRINGE, ANDROMEDA and the TERMINATOR: THE SARAH CONNOR CHRONICLES.
Scott interviews these delightful chaps about their new YA novel COLIN FISCHER. The conversation also delves into the subtleties of writing fiction as opposed to writing screenplays, and what it's like to be the sole focal point of a book marketing campaign as opposed to being one of many faces when it comes to promoting a movie.
And wait … what's this? Do we break some major news on their next scifi project? Why, yes … yes they do. You want to hear that part, especially if you hate bugs.
Our whoop-ass show sponsors: Stamps.com is the bomb for everyone in small business. Print postage for any size package right at home, have a Post Office truck some and pick it up for you. Save time and stay in your pajamas. Snag a free postage meter and up to $50 in free postage! 4InkJets coupon codes is another must for your business. Save 10% and get free shipping on ink cartridges, laser toner and printing supplies with the coupon code SCOTT. Check out our GoDaddy promo codes page for great coupon codes like the limited-time offer go20off8 which saves you 20% off your entire order (good until Jan 1, 2013). We also thank our sponsors Eastbay coupon codes for savings on athletic gear and NBA fan jerseys, Petco coupon codes to get all kinds of things for your family friends, and Moosejaw coupon codes for discounts on gear for camping, the outdoors, skate, snow and surf.