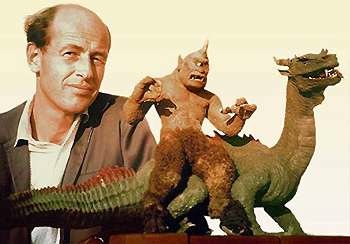 Ray Harryhausen passed away today. If you don't know that name, he was a filmmaker who pioneered the use of stop-action animation and made some of the greatest monster flicks ever seen. His SINBAD movies and JASON & THE ARGONAUTS inspired me to build Lego monsters and create my own stories at a very early age. And, of course, his CLASH OF THE TITANS from 1981 stands alone as a classic piece of special effects awesomeness.
I watched his movies over and over. As a kid who loved creatures and monsters, there was none higher than Harryhausen. Without a doubt, you wouldn't have seen the creatures of the INFECTED series without him, nor would you have probably seen the well-developed and truly alien species of the GFL series. He set my imagination aflame.
The first story I ever wrote, "Tentacles, Tentacles and More Tentacles," was, in my young mind, a Harryhausen monster begging to be brought to life.
It hits hard when heroes die. I raise a glass to one of the greatest entertainers of all time.