Since no matter what this post actually says, someone is going to bitch and say I'm ripping on the show, let me land a few pre-emptive strikes so there can be no confusion about my opinion of THE WALKING DEAD, Season 3.
• The first episode was goddamn awesome
• The second episode was even more goddamn awesome
I thought the show really dragged in Season 2 with the endless whining and ridiculous character decisions of Lori, the endless Days of our Lives drama that made the show THE LET'S TALK ABOUT OUR FEELINGS DEAD, and the concept that people are just going to let their kid "go out and play like kids do" when there's a freakin' zombie apocalypse going on. I'm sure there's more of that to come in Season 3, but so far the first two episodes were off-the-hook good (if I may bust out an 80s phrase, kids).
I'm under deadline (and shouldn't even be writing this), so I don't have time to blog-chase the answers. Besides: I'd rather hear what the Junkies think, because you are all rather smart.
Now, with all of that praise out of the way, I have some questions (read also: let's nitpick the tiniest details). I really only do this with amazing shows that are so close to "perfect" it bugs me they couldn't find a way to tie up those last few little points.
SPOILERS BELOW! DANGER, WILL ROBINSON!
BIOLOGY / CONTINUITY NITPICKING
1. What's the deal with biting and scratching?
Can someone help me out with this? I'm lost on the continuity.
• They all have the virus
• If they die, the virus "activates"
• So then why does a bite or a scratch make them zombies again?
2. If a bite or scratch makes you a zombie, why doesn't fluid contact to eyes, nose, mouth and existing cuts?
These people are the Gallagher of the horror world — you need a raincoat to sit in the front row, for Christ's sakes. There is so much zombie fluid hitting faces the show might as well star and undead Jenna Jameson. Infected zombie blood hits characters in the eyes, the mouth, goes up their nose and splashes on any cuts they might have (and considering they have a rough-and-tumble life without a lot of Snoopy Band-Aids™, so there should be dozens of abrasions that allow blood-to-blood contact).
3. Daryl carries contaminated arrows in his freakin' mouth, for freak's sake
He does. I've seen it. You've seen it. An arrow that just went through a zombie brain? He puts it in his mouth to carry it around! If the disease is spread by bite (saliva) or by scratch (no idea, blood?), and he puts those materials into his pie-taster, wouldn't that be a slam-dunk case of ZTD (zombie transmitted disease)?
4. Your blood circulates really fast — wouldn't you have to amputate instantly?
My wife is a nurse. One of the things nurses do is inject "contrast" into a patient's bloodstream so they can see how the heart is pumping. They also admister meds intravenously. She says that when you put something into the bloodstream, it hits the heart almost immediately. So when Hershel's leg is bitten (awesome FX, by the way), and it takes Rick a good five minutes of screen time to play Whack-a-Mole with his shin, wouldn't the viral vector (which is carried by blood, isn't it?) already be well into his bloodstream?
This one is bugging me more than the rest. It takes about one minute for blood to make the round trip from leaving your heart to returning to it. Everyone has the "virus." If they die, they turn. If they get bit, they turn. That means there's a hibernating virus (in healthy people) and an active "I-will-fuck-your-mother virus" in the zombies. The active virus spreads via bite or scratch, when that wound draws the victim's blood. So, how would chopping the leg off stop a virus if that virus was blood-borne?
PLOT NITPICKING: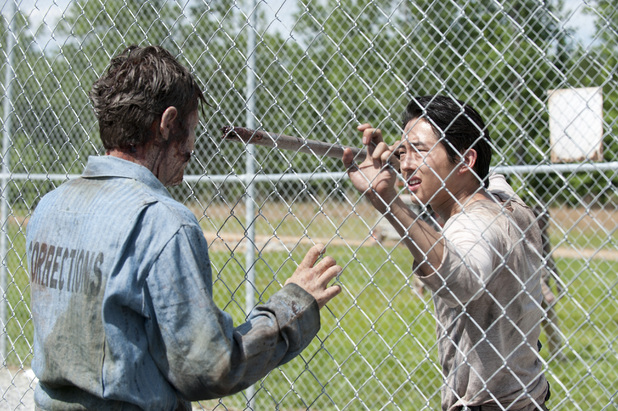 5. Fences are your friends. Don't leave your friends.
In Episode #1, they are standing behind a perfectly good fence. The zombies come to them, and they shove a pipe in their eye (an actual pipe, that wasn't another Jenna Jameson reference, honest). So, why would they leave the safety of that fence to "take the yard?" All they have to do is stand there, the zombies walk up to the fence, the zombies get stabbed in the face. Do this until there are no more zombies. Did anyone else have a problem with this?
Once they go into the prison to clear the cell block, I get that — fog of war, things are confusing, there's zombies trying to eat your face.
6. What am I missing? Why is Rick still pissed at Lori?
Let me break down my logic here. I'll use my high school friend Scott Christian as an example. I've known him for 25 years now, so I'm pretty damn sure we know what kind of guy he is:
– Say there is a freakin' zombie apocalypse …
– Say Christian thinks I am dead, because like 60% of the world is dead …
– Say he then protects my wife and my only child …
– Also, say my wife thinks I am dead …
– Say Christian and my wife have known each other for 20+ years and are buddies in their own right …
– Say Christian and my wife start bumping uglies …
– Did I mention they both think I'm dead? …
– Say Christian gets my wife in a family way …
– Am I really going to feel all betrayed about that?
– Especially after I killed Christian with a knife, showing the whole world who is boss?
– And there's a freakin zombie apocalypse going on?
– Pretty sure I'll live and let live at this point. What am I missing? Does this make sense to any of you, or would also let bygones be bygones
– (Caveat: Lori is the most annoying character in the history of television — she's a non-funny version of Seinfeld's Neuman:yes, that annoying).
7. Zombies "playing dead" (added because of a comment by ELCas, I forgot about this one)
The stakes are rather high if you make a mistake, you know that putting a pipe through their freakin' heads will take them out, but you see a zombie sitting there like a Haight Street pan-handler and you don't crush that melon? You just walk on by, thinking "hey, he's not moving, so all good?" The scene where Hershel gets bitten left me shaking my head a little bit. A) Anyone have a theory as to why they ignore zombies that have a whole head? and B) Are some zombies smart enough to use strategy?
BRING IT, JUNKIES:
Fill a brotha in on what I'm missing here. I'm thoroughly entertained and very happy with the Red Bull version of THE WALKING DEAD. I can't wait for Episode #3.