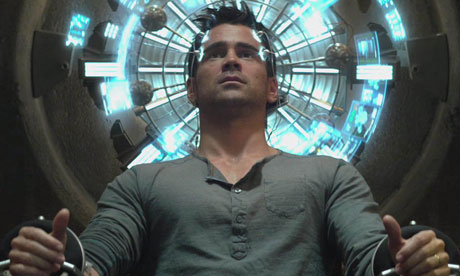 With the upcoming remake of Arnold Schwatzenegger's super-fun scifi standard TOTAL RECALL, I have a question for you. There is no right or wrong answer, per se, but damn, I'm curious — if you're re-making a movie because it is an enduring classic that made beaucoup bucks, why do producers/writers/directors feel the need to "re-invent" it?
I'm not saying the new Colin Farrell version of RECALL is going to be bad, but the previews to make it look like they've made significant changes to the plot. The question is: why? What's wrong with the original plot? Why wouldn't you just make a few tweaks to a proven product, cast a bunch of good-looking people with box office caché, update the FX and tell the same story?
Some awful remakes come to mind, like PLANET OF THE APES or THE TEXAS CHAINSAW MASSACRE. And speaking of Farrell, how about that FRIGHT NIGHT remake? It was a flick about a vampire next door — did they really need to walk away from the original, super-fun plot?
But sometimes, you can't win. In 1998, Gus Van Zant tried a shot-for-shot remake of Alfred Hitchcock's classic PSYCHO, and that failed to thrill. Can you blame that on the star power, or lack therof? Or, is this proof that a classic in one decade is a product of the times, and the same story told 30 years later won't have the same impact?
How much of this is a quest for the best product, and how much of it is territorial pissing? I wonder. If you do a shot-for-shot remake, and it's a hit, the director probably doesn't get that much credit for it. But if you change it up and it's a smash like SCARFACE, THE THING or THE FLY, you are showered with accolades, champagne, hookers and blow (a shower we'd all like to have, and, yes, the hookers can be male).
So what are your thoughts? If Lucas sees your YouTube video and says "Oh, golly! I need this kid directing the reboot of STAR WARS," do you gut the plot and "modernize" it, or do cast Vin Diesel as Vader, dust off the existing script and have at it?