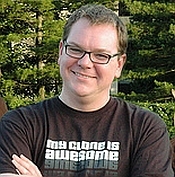 My nemesis J.C. Huchinsssssss has delivered a bomb against the evil that is me. He made a ring tone out of the O Fortuna song I sang for the NOCTURNAL unboxing video. And yes, I use the term "sang" loosely, so STFU.
If you don't know the song, it is in every devil movie ever made. The song makes grown men poo themselves in fear. That's why it is so rad. You pooing yourself because of a tune? That's rad and you know it, so stop denying that it's wicked-rad.
Mr. Smart Ass Hutchins made a ring tone as "a present to the junkies." What that really means is this is the audio equivalent of me texting nekked pics of me to chicks and/or dudes, and Hutchins wants the Internet to slanderimize me. So in order to control the message before the message controls me (hear that, Anthony Weiner?), I'm just going to link to these bitches right here.
Screw you, Hutchinsssssss.