14 Posts tagged movies
PACIFIC RIM robots have huge inseams and a huge trailer. Author James Rollins busts out that vampire action, and these bitches don't sparkle. Check out scenes of DEAD SPACE 3, due out in February. This episode sponsored by our Eastbay coupon page.
Now that I'm a fancy B-list movie reviewer (I know that makes you hot for me, admit it), I get the opportunity to watch some little-known stuff. Most of the time, that means I get to watch some real stinkers. Sometimes, however, I get to watch talented people make the most of micro-budgets and create the best flick they can, without the safety net of Hollywood's money-hose.
Case in point, the indie flick KILL ME NOW, which just launched a (very) limited theater run on Dec. 5. The movie comes with some pretty severe Internet street cred, being written by Yesterday, Webby and Streamy Award winner Michael Swaim of Cracked.com fame.
KILL ME NOW is a mix of comedy, horror, and SUPER TROOPER jackassery. There's nothing serious about this flick. There is drinking and yelling and death and loud noises. There are power drills. There is the worst fake bear in the history of movies.
KILL ME NOW is clearly an indie affair, and it starts out a little slow — I admit, because of that, I was kind of looking for reasons not to like it. Swain and director Travis Long didn't give me any, and kept it moving one laugh at a time. Yeah, the move had an FX budget of $0, but they knew that going in and relied on performances and punchlines to carry the flick.
In addition to writing the script, Swaim also plays "Dennis," one of the two much-maligned nerds that are trying to horn in on the Cool People's end-of-high-school party. A party in a cabin in the middle of the woods. A very secluded cabin in the middle of the woods (they're making a low-budget horror movie, not re-inventing the wheel).
Brett Fancy (EAST ENDERS, OUTPOST) is the rich-voiced, highly educated "Driller Killer," a serial killer that likes to take out his victims with the ages-old technique of "Trepanation." The Driller is a tongue-in-cheek character that grows increasingly frustrated with his lack of body count. Fancy is a seaoned actor, and — to be blunt — is so self-assured in the role that he seems almost a little out of place in this cast of younger actors.
There are some really solid show-stealers in this movie. Beck Bennet delivers a Grade-A, over-the-top "jock douchebag" role as Todd, the leader of the Cool People who want to keep the Nerds out. I'd love to see him in more movies. The best comedic turn comes from Noah Byrne, who puts in the best stoner performance since Sean Penn in FAST TIMES AT RIDGEMONT HIGH. No, I'm not kidding. It's worth seeing this movie just to watch Byrne deliver three lines.
If you're looking for awesome gore, go rent SAW VII, because this movie is gore-free. IMDB lists the movie as having a $1 million budget; I find it hard to believe they had that much to spend based on what made it to the screen (and what didn't make it, notably the aforementioned utter lack of FX).
This movie is missing a lot, but the bottom line is I enjoyed it. There's a ton of funny in this bad boy. If you like horror/comedy and you like watching what people do with limited resources (and I do), you'll definitely dig it.
When I went to ComicCon 2012, I met a whole heapin' helpin' of new people. It was a creative-types extravaganza. One of the people I met was actress Johanna Watts. After chatting, she wanted to read NOCTURNAL, and I wanted to watch one of her movies, an indie horror flick called IN MEMORIUM, so the ol' "artistic switcheroo" plot was hatched.
IN MEMORIUM was a 2005 micro-budget flick, so it took me a bit to track it down. If you want to watch it, it's streamable on Vudu for a couple of bucks (and that's Johanna's crying face in the movie poster at right).
I'll get to my question for you in just a moment.
But first, I enjoyed the movie. I've written a one-location screenplay myself, so I understand the challenges of writing a horror plot that can be shot on a low budget, or even no budget at all. You need to justify isolation, so your characters have to stay in that one setting and can't get help from expensive extras. The plot has to incorporate your budget! It was fun to watch what writer/director Amanda Gusack did to achieve that isolation.
IN MEMORIUM is a variation on the "found footage" style of filmmaking seen in THE BLAIR WITCH PROJECT. The protagonist is dying of cancer. He and his girlfriend (Watts) move into a house and wire it top to bottom with security cameras, so he can make a documentary on his final year of life. Those cameras, of course, catch a lot of other activity, very spooky activity, that no one would have seen without these ever-present (and plot-justified) cameras. Like BLIAR WITCH, the milieu even incoporates low-quality cameras, so footage that looks "bad" still feels "right."
Now, to my question. I finish the movie and see that's poorly rated on Vudu. I can understand why: if you're just watching this movie and not accounting for a non-existent budget, there are a lot of problems with it. If, however, you have any level of experience in making movies (even my tiny amount of knowledge based on writing a couple of screenplays and shooting a few book trailers), you can see the places in the movie where an FX budget would have fixed a ton of issues. But, Gusack didn't have the money hose needed to create an FX-ladden flick. She found a way to write a compelling horror story, cast it, shoot it, and actually get the thing made; that's an amazing accomplishment in itself.
So, I ask you -- when you're reviewing a movie, do you give it "bonus points" for trying if it is low-budget? Do you bump a 3-star flick up to 3.5, or even 4, if you can see they didn't have the money to make the movie what it should have been? Or, do you simply judge a movie as-is? Do you say to yourself "they knew their budget, they should have written something they could accomplish?"
A low-budget flick can even influence my opinion of the acting. If you've got the money to pay John Malkovitch, you get one product. If you're asking the actors you know to work for free for a week or more, you get another. I know how hard it is to make anything that involves a cast and crew, so I take that into consideration when I'm watching. I thought Watts did a great job. I wasn't as crazy about Erik McDowell's role as the male lead, but the budget limitations made me appreciate the performance whereas if he delivered the same effort on a big-budget flick, I might have felt more critical about it.
What are your thoughts? Budget: does it affect your perception of an artisitic effort?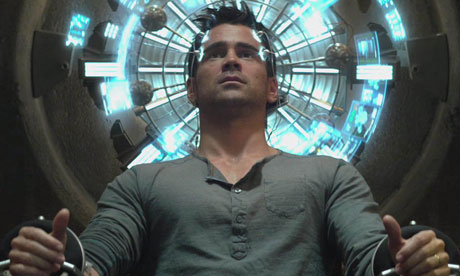 With the upcoming remake of Arnold Schwatzenegger's super-fun scifi standard TOTAL RECALL, I have a question for you. There is no right or wrong answer, per se, but damn, I'm curious -- if you're re-making a movie because it is an enduring classic that made beaucoup bucks, why do producers/writers/directors feel the need to "re-invent" it?
I'm not saying the new Colin Farrell version of RECALL is going to be bad, but the previews to make it look like they've made significant changes to the plot. The question is: why? What's wrong with the original plot? Why wouldn't you just make a few tweaks to a proven product, cast a bunch of good-looking people with box office caché, update the FX and tell the same story?
Some awful remakes come to mind, like PLANET OF THE APES or THE TEXAS CHAINSAW MASSACRE. And speaking of Farrell, how about that FRIGHT NIGHT remake? It was a flick about a vampire next door -- did they really need to walk away from the original, super-fun plot?
But sometimes, you can't win. In 1998, Gus Van Zant tried a shot-for-shot remake of Alfred Hitchcock's classic PSYCHO, and that failed to thrill. Can you blame that on the star power, or lack therof? Or, is this proof that a classic in one decade is a product of the times, and the same story told 30 years later won't have the same impact?
How much of this is a quest for the best product, and how much of it is territorial pissing? I wonder. If you do a shot-for-shot remake, and it's a hit, the director probably doesn't get that much credit for it. But if you change it up and it's a smash like SCARFACE, THE THING or THE FLY, you are showered with accolades, champagne, hookers and blow (a shower we'd all like to have, and, yes, the hookers can be male).
So what are your thoughts? If Lucas sees your YouTube video and says "Oh, golly! I need this kid directing the reboot of STAR WARS," do you gut the plot and "modernize" it, or do cast Vin Diesel as Vader, dust off the existing script and have at it?
I loved THE AVENGERS. Loved-loved-loved it. And Marvel knows that. That's why they are busting out the "Marvel Phase One DVD Collection."
Check this bad boy out. Nick Fury's case, packed with not only a freakin' Tesseract, but 10 discs that cover Marvel Studios' superhero goodness from IRON MAN all the way up through THE AVENGERS. Plus confidential S.H.E.I.L.D. files, prop reproductions, artifacts from the movies.
Granted, this seems to be in Blu-ray 3D and Blu-ray, and Poppa ain't got a Blu-ray player, but this is some super cool collectible stuff.
It's on shelves September 25th, 2012. We can only hope Joss Whedon gets a little tasty-taste of the action from this sucker.
One can only hope the GFL books can someday get a treatment this sexy. Oh, I have plans. Do I ever ...
Ah, Christian Slater, that face of the 80s, star of HEATHERS, BROKEN ARROW, INTERVIEW WITH A VAMPIRE, TRUE ROMANCE and more, what's he up to these days? He's busting out a little indie horror in PLAYBACK, which was released on DVD May 8.
I'm a fan. I like his work. This movie? Maybe not so much. As a bonus to my fellow 80s kids, though, there are two scenes with Mark Metcalf, who was the screaming guy in the Twisted Sister video "We're Not Gonna Take It" (and, yeah, also in ANIMAL HOUSE).
This isn't Slater's first foray into indie horror. He did that abysmal ALONE IN THE DARK video game adaptation. Like in Playback, he did a good job in a terrible movie.
Check out the review. It's three frickin' minutes, and has some surprises inside. It's like Cracker Jacks in video form, but it tastes more like day-old gym socks than caramel.
This review sponsored by Petco.com coupon codes, which give you toys, leashes, beds and pet food for your buddies. If you have a pet, click on that link to see the kick-ass offers.
THE RAVEN with John Cusak opens tonight, so here's my game-day review of this Edgar Allan Poe-inspired flick. Now, since I can't reach anyone at YouTube to get permission to include movie trailers in my vids, I made my own trailer. It's wayyyyy better than the original, I'll have you know.
The thing is, if I embed the actualy trailer, YouTube won't allow it to be embedded on this blog or allow it to be played on mobile devices (which pissed Junkie ExotiKali off to no end). So, I get to bust out my film-making chops and produce my own.
Watch this before you go to the theater, peeps.
The DVD of THE DARKEST HOUR came out April 10, so I thought I'd take a shot in the face so that you don't have to. I was just born a giving person. Don't blame yourself if you're not as giving as me, okay?

Synopses: A pair of programmers travel to Moscow to get investors for their bar-hopping Facebook app, and like the Facebook story, when they arrive they've been ripped off by their partner who takes the idea for his own. Then, everyone goes to the bar. Then, balls of light float down. Then, oh shit, the balls of light are aliens that melt your face (and your other parts as well). Our heroes hide in the bar basement, and when they come out they might very well be the last people on Earth!

This is a scifi/horror flick that tries to put a slightly different spin on the classic alien invasion script. Starring Emile Hirsch (SPEED RACER) and Olivia Thirbly (DREDD), it's INDEPENDENCE DAY over Moscow instead of DC, it's PREDATOR with balls of light instead of a whoop-ass crab-face monster, and -- if you're old enough for this one -- it's NIGHT OF THE COMET without the lighthearted humor.

The monster CGI is kind of fun, and the death scenes are done very well (as you can tell in my video review). I wasn't keen on the acting and the plot is as a formulaic as formulaic gets.

Overall, this is a fun 90 minutes if you can NetFlix it, or rent it if you watch movies for the FX and not for the plot, but do not buy the DVD, folks.

This review sponsored by the pet food, pet toys and pet medicine savings links at http://www.scottsigler.com/petco-coupon-codes. Check out the page to find a link you like, click it, start shopping and save!
Click on the image above to watch the 2-minute movie review of the horror flick that everyone is raving about.
CABIN IN THE WOODS really turns the horror genre upside down. And also left and right. And possibly at various angles. It's like the Mary Lou Retton of horror flicks, and -- yes -- it sticks the landing. Starring Chris Hemsworth (THOR, AVENGERS) and Kirsten Connolly (THE HAPPENING), CABIN is a must-see in theaters. Don't wait to watch it at home.
Hemsworth is the marquis name, but the real star is every nerd's buddy Joss Whedon. Joss produced the move and co-wrote the screenplay with Drew Goddard (scriptwriter for
CLOVERFIELD
). The script of
CABIN
is full of whip-smart ideas, fantastic dialogue and multiple reveals. It sounds cliché, but it's true: you think you know what's happening, but you don't, and at the end you will want to see it again to catch all the in-movie references. I think
CABIN
has "see something new every time" re-watch cred akin to
THE SIXTH SENSE
and
PULP FICTION
.
CABIN feels an awful lot like SCREAM, in that it openly embraces the horror-movie stereotypes by writing them into the plot. I think that's called being "meta." Sure, you know the "whore," the "alpha jock," the "stoner" and the "virgin girl," but when the movie actually talks about these stereotypes it changes the game. CABIN tries to do for monster/paranormal horror flicks what SCREAM did for the slasher genre (a movie called FEAST did the same thing with monster flicks, but CABIN is approaching it from an entirely different level).
Providing the comic relief, Bradley Whitford (BILLY MADISON) and Richard Jenkins (SIX FEET UNDER) absolutely nail it, bringing an OFFICE SPACE vibe to the flick that will make you long for those corporate parties.
Junkies, this week you get to pick what movie I will review on Friday, the day new movies are released.

Hopefully this is the beginning of a weekly event here, where Junkies decide if I get to see something fun, or if I am subjected to the latest goddamn Nicholas Sparks m-fing piece of romantic splooge.




So exercise your (rare) right in Siglerism, and vote!



I've done some movie reviews here before, but now we're up-leveling: short video reviews of a movie the day it comes out. This time, I chose LOCKOUT, starring Guy Pearce (MEMENTO) and Maggie Grace (LOST, TAKEN). I also got a hot dog in plastic, geeked out for the new Ridley Scott flick, and show you my skills as an action-movie director in modern Hollywood.
Yes, once again I am on the cutting edge of intellectual foreign films. This touching piece of post-war ennui, a 2009 Sundance selection, comes to us from Norway. An emotionally gripping tale of a nation recovering from the scars of global conflict, DEAD SNOW carries into the struggle of a group of young people trying to come to terms with ...

... aw, screw it. I can't keep this up. The movie is about frozen Nazi zombies. Now if you haven't already added it to NetFlix from the words "frozen Nazi zombies" alone, then you and I are different people, son, but I'll continue and try to bring you around to my way of thinking.

Click through to read the review and see the trailer.